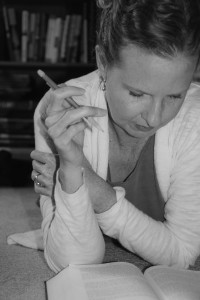 Cricket is the author of The Ghosting of Gods, a story created from her fascination with religion and spirituality. Given her fondness for haunted settings, she had mischievous fun melding together spiritual concepts with the storied world of ghosts for her first novel. Ghosts—what they really are—reveal the heart of the story, which is about identity in the largest, mystical sense.
The Ghosting of Gods is a sort of Halloween in Oz.  It's supernatural, it's spiritual, it's creepy.  So it may seem surprising that it's also meant to be a contribution to the much-needed genre of transformational fiction…but it's exactly that.
Cricket's favorite quote defines transformational fiction because it brilliantly explains both  storytelling and spirituality:

The hero path…where we had thought to find an abomination, we shall find a god; where we had thought to slay another, we shall slay ourselves; where we had thought to travel outward, we shall come to the center of our own existence; where we had thought to be alone, we shall be with all the world.

~Joseph Campbell, mythologist

Cricket currently resides in Purpleton Village, the setting for her next novel, which is to be the first in a cozy mystery series. Expect murder, psychology, and the supernatural at a secluded mountain writer's retreat called Rumpelstiltskin, where creativity is known to turn straw into gold.